Explore an Island Enveloped in Nature and Folklore
Kamome Island, which lies 20m above sea level and has a circumference of 2.6km, forms a good natural harbor and once served as a setting for herring fishing and trade by kitamaebune cargo vessel back when it was still called Benten Island. It is no exaggeration to say that the history of Esashi began with Kamome Island. Now, this beautiful natural islet has been designated a special region in Hiyama Prefectural Natural Park and is loved and familiar to many as the symbol of Esashi. Why not start a tour of Esashi by exploring Kamome Island?
Heishi Rock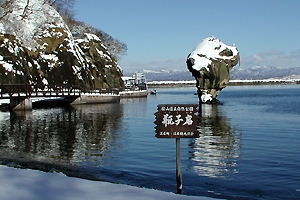 500 years ago, there lived an old woman who foretold of many things. One day on Kamome Island, the old woman was given a small bottle by an old man, and when she threw the bottle into the sea as instructed, schools of herring began coming to Esashi. This bottle is said to have turned into a rock and appeared on the sea, becoming Heishi Rock. The old woman came to be called Orii-sama by the people and was revered as a god. During the Kamome Island Festival held each year on the first weekend in July, young people from the town wrap a rope 30m in length around the rock.
Senjojiki (a thousand tatami mats)
This erosion pattern seen on the eastern cliff of Kamome Island was formed by powerful sea waves. It is named after its appearance because it looks like many tatami mats that have been spread out.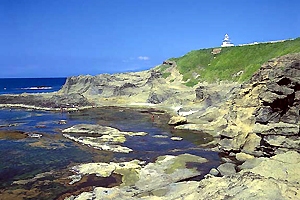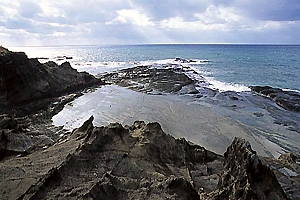 Esashi Oiwake Monument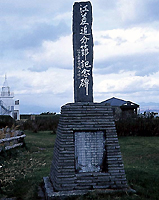 This monument was built in 1932 by Kojiro Takano and 11 other members of the Esashi Oiwake Association, and 13 supporting members. The writing is that of Shinichi Sagami, who was governor of Hokkaido then. It is said that to have been around this time that the song, "Esashi Oiwake" spread throughout Japan.
Itsukushima Shrine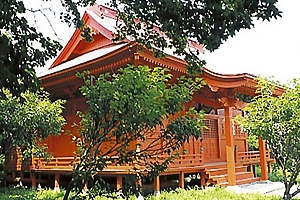 Shipping agents built this shrine in 1615 as Benzaiten Shrine and dedicated it to safe sea travels. Its worshippers came to include persons involved with kitamaebune cargo vessels and merchants, and in 1868 the name was changed to Itsukushima Shrine. There is a monument built in 1814 on the shrine grounds inscribed with a poem by the poet, Matsuo Basho that reads, "What an imposing sound! It is hailing on my helmet made of Japanese cypress."
Namikiri Gate
During the Tempo Era, along with the torii gate in front of the shrine, shipping agents also constructed this torii as the first shrine gate to Benzaiten Shrine (later called Itsukushima Shrine), which was dedicated to safe sea travels and prosperity in business. It was destroyed later by waves, but a portion was retrieved from the sea floor and moved onto shrine grounds.
Kitamaebune Cargo Vessel Mooring Ruins (town-designated cultural property)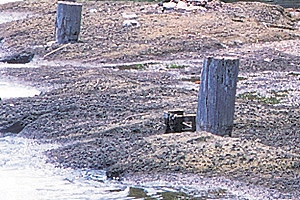 In bygone days, kitamaebune that arrived in the waterways of Esashi anchored in Kamome Island bay where their vessels were protected from the rough waves of the Japan Sea. Even today, mooring rings (rings through which ropes were thread) and the holes made in mooring posts fashioned out of island bedrock remain as relics of that time.
Kitamaebune Cargo Vessel Drinking Well (town-designated cultural property)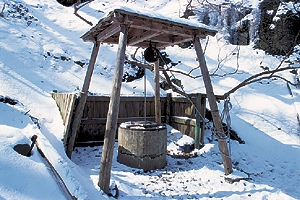 When kitamaebune cargo vessels dropped anchor at Kamome Island, the greatest difficulty faced during the preparation for the next voyage was securing water. The island had no water. The Esashi wholesaler dealer, Saburouemon Murakami spent a fortune in 1876 and took many years to dig this well, which brought considerable convenience to the kitamaebune voyages.
Tokugawa Shogunate Battery Ruins
In 1852, two gun batteries were placed on Kamome Island by the Matsumae Clan to defend the shore. Today, only the ruins remain.
The Legend of Yoshitsune and the Horse Rock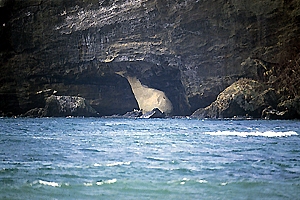 At the water's edge, facing Ebisu Beach on the eastern side of Kamome Island stands a rock that resembles a white horse stretching out its neck and neighing. A long time ago, Minamoto no Yoshitsune was forced from Oshu Hiraizumi by Minamoto no Yoritomo and escaped to Esashi for a brief period. When he once again set out, he left his beloved dapple-grey horse on Kamome Island. The horse never left the shore, waiting day after day for Yoshitsune in the rain and wind, until he finally turned to stone. That fossil is said to be the Horse Rock.
Kamome Walkway
A walkway has been built that offers a pleasant way to stroll around the sights to see on Kamome Island. Walking slowly, the path can be completed in approximately 2 hours.
Fishing
The waters surrounding Kamome Island are also perfect for fishing. Flounder and Atka mackerel can be caught in spring, greenling in summer, mackerel and yellowtail in fall, and Atka mackerel in winter.