Though the year of establishment is unknown, it is said to have been built by Orii-uba about 560 years ago in 1447. In 1644, it was moved from Tsubana-cho to its present location. In 1817, it became the oldest shrine in Hokkaido to receive an imperial sanction as a shrine of the highest rank.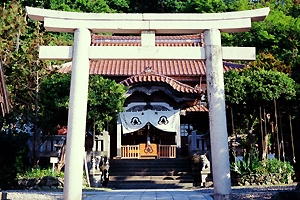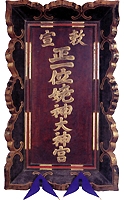 ■Orii Shrine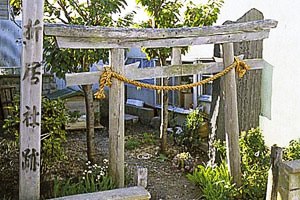 This shrine was built to worship Orii-uba, who was worshiped by fishermen as an ancestor of herring fishing, and is said to be the origins of Ubagami Grand Shrine. In 1774, it was moved from its original position at the entrance to Esashi Port to its present location (Ubagami-cho). The current shrine is a reconstruction built in 1836.
■Ubagami Grand Shrine Togyo Festival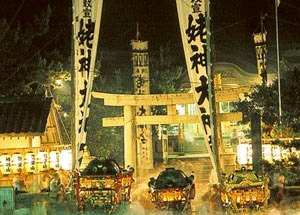 For 3 days every year from August 9th to 11th, thirteen splendid floats and three portable shrines are paraded through town during the Togyo Festival.
■Votive Picture of Ships Dedicated to Ubagami Grand Shrine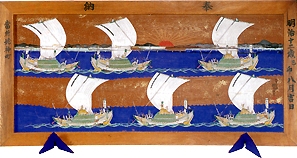 During the era of trade using kitamaebune cargo vessels, when ship owners purchased a new boat, they made a votive picture of a ship and dedicated it to their shrine of worship. A ship owner from Ubagami-cho, Ibee Taguchi presented this picture together with 6 ships' boatmen.
■Heishi Rock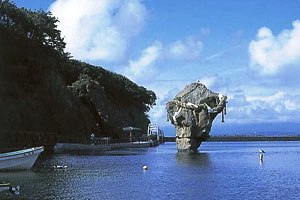 500 years ago, there was an old woman who foretold of many things. One day on Kamome Island, the old woman was given a small bottle by an old man, and when she threw the bottle into the sea as instructed, schools of herring began coming to Esashi. This bottle is said to have turned into a rock and appeared on the sea, becoming Heishi Rock. The old woman came to be called Orii-sama by the people and was revered as a god.
■ Kamome Island Festival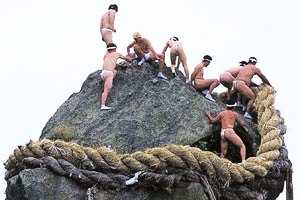 Held each year on the first weekend in July, young people from the town wrap a rope 30m in length around the rock.
| | | |
| --- | --- | --- |
| Town Planning that Highlights History Inishie Road | Esashi Travel Guide | Esashi Oiwake Kaikan/Esashi Yama Kaikan |