Esashi Oiwake Kaikan
Oiwake folk music has roots in the horseman's song that was sung along Nakasendo Road in Shinshu from the Edo Period.
It spread throughout Japan as a type of popular song. The song that reached Echigo was sung by boatmen as a boatman's song, and it is said the song was brought to Esashi approximately 200-some years ago by way of kitamaebune cargo vessels.
Furthermore, it is said that in Esashi the leader of a troupe, Sanoichi combined Kenryo folk music with Oiwake folk music to create the unique melody of the Esashi Oiwake , which was refined and sung by many singers.
Esashi Oiwake is a song of tribute to humans that were born amid the harsh nature and living environment of the northern country. To accurately preserve and pass down the spirit of this regional culture inherited from our forefathers, Esashi Oiwake Kaikan was built in 1982 through the generosity of town residents and Oiwake fans.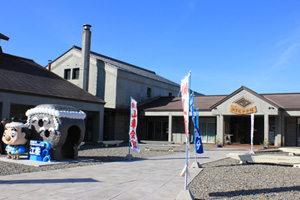 Audiences can enjoy authentic Esashi Oiwake sung in Hyakujojiki Hall at Oiwake Kaikan by professionals and national champions from the community.
From late April to October, Esashi Oiwake and local Hokkaido folk songs are performed everyday on the stage, which features a gorgeous curtain decorated with a print of Esashi folding screens.
The tatami-floor seating is comprised of approximately 100 tatami mats. The audience can comfortably relax and fully enjoy Esashi Oiwake to their heart's content.
During the Golden Week holidays and Togyo Festival at Ubagami Grand Shrine, there are also special performances of folk entertainment, such as musical accompaniment to rice cake making.
Training and Exhibition Room
On the stage featuring a gorgeous curtain decorated with a print of Esashi folding screens, everyday from late April to October numerous folk entertainment including Esashi Oiwake are performed that introduce Esashi to visitors. The tatami-floor seating is comprised of approximately 100 tatami mats, so the audience can comfortably relax and fully enjoy Esashi Oiwake to their heart's content.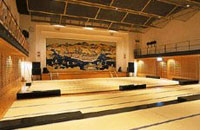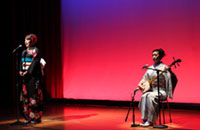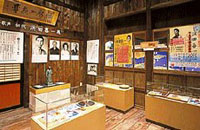 Video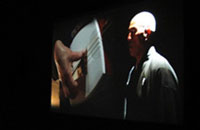 Esashi Oiwake is introduced on a 200-inch screen. Its origins, transformations, and national competitions are explained.
Oiwake Reference Room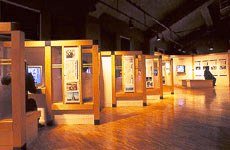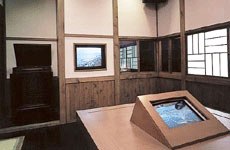 The Esashi Oiwake song sung by past master artists and memorable championship singers are demonstrated through audio and video.
There is also other valuable content that is of great interest to Oiwake fans, such as the origins and traces of the Oiwake folk song, Iijima audio‐visual room, and an Oiwake library.
Oiwake Training Hall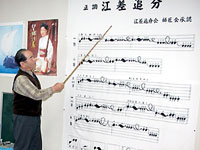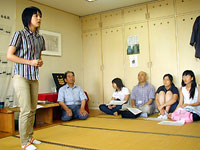 Training is open not only to town residents, but to anyone interested in understanding Esashi Oiwake. Throughout the year instruction in Esashi Oiwake takes place while the facility is open. Visitors are welcome to stop by anytime.


Hours:
Wednesdays to Sundays, 10:00 a.m.-4:00 p.m.
Please note, the facility is closed the day after national holidays and year's end/New Year's.
Click here for details. (Go to the Esashi Oiwake Kaikan website.)
Esashi Yama Kaikan
Ubagami Grand Shrine Togyo Festival has the longest history and tradition in Hokkaido.
Every year on August 9th, 10th, and 11th, thirteen floats (in the Esashi Festival floats are called yama) that follow the three portable shrines belonging to Ubagami Grand Shrine are paraded around town to the accompaniment of festival music, with banners fluttering in the wind. Each is decorated with historic dolls and ornaments, and they compete on their individuality with town pride.
This facility permanently displays two of the thirteen floats that hand down a long history and tradition on a 1-year rotation.
Main facility exhibits Thirteen gorgeous, stunning floats (yama)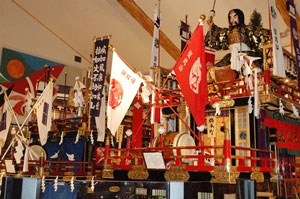 Two of the thirteen floats are permanently displayed on a 1-year rotation.
* The floats are not exhibited from August 6th to 12th.
(This year, the 4th year since the facility was opened, the exhibit will be of the shomuzan and gikozan floats, which have been designated tangible folk cultural assets by Hokkaido. The display lasts until August 2014.)
Large Screen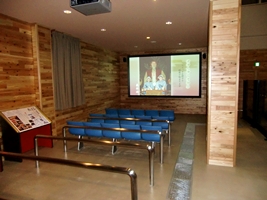 The bustle and excitement of the festival is reproduced on a large, 150-inch screen (3.6m wide × 1.8m high). The film is narrated by the actor, Sakae Takita and features dynamic video footage.
Panel Display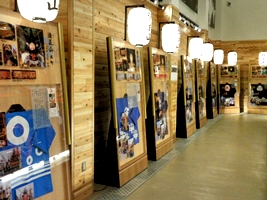 This panel display introduces highlights from the Ubagami Grand Shrine Togyo Festival, from its origins, history, and festival parade course, to the dolls on the thirteen floats, decorative cords, and hanten clothing.
Mural Panels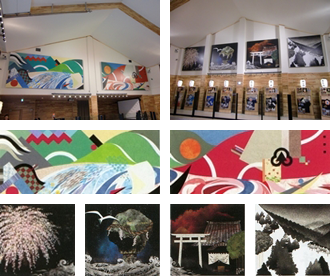 Murals drawn by the collage artist, Mayuko Mitoma are on display. The paintings depict the four seasons in Esashi and enrich the float displays.

Mayuko Mitoma, collage artist

Ms. Mitoma is a collage artist/illustrator from Kyoto who lives in Sapporo. After graduating from Musashino Art University Junior College of Art and Design, she worked for a major advertising agency. She was in charge of the variation designs of the mascot image for the "1991 World Championships in Athletics," then became a freelance illustrator in 1992. In 1994, she moved to Sapporo and began creative activities as a collage artist. Currently, she is involved in a wide range of activities, including holding solo exhibits in various locations.
Esashi Oiwake Kaikan/Esashi Yama Kaikan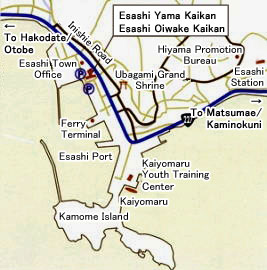 193-3 Nakauta-cho, Aza, Esashi-cho
Tel: +81(0)139-52-0920

Entrance Fee:
500 yen for adults, 250 yen for elementary/jr. high/high schools students
* 10% discount for groups of 15 or more

Hours:
Open daily from April to October;
Closed Mondays, day after national holidays, Year's end/New Year's (December 31st-January 5th) from November to March